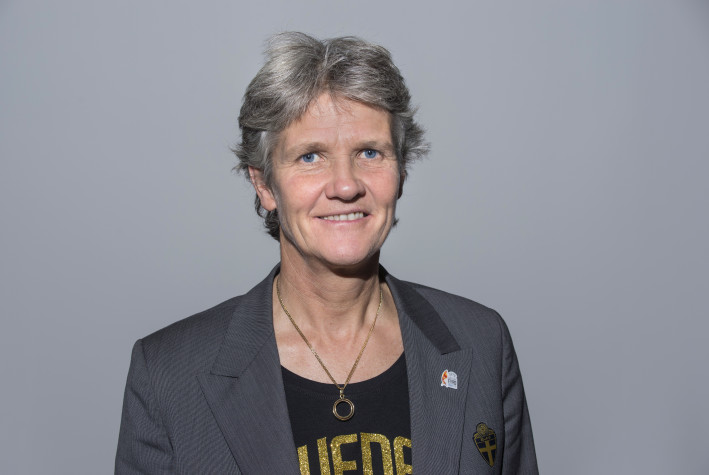 Pia Sundhage – International Swede of the Year 2017
The International Swede of the Year Award 2017 goes to the football coach Pia Sundhage. The winner will receive the price at a ceremony at Grand Hôtel in Stockholm, August 23, 2017. Since 1988, the organization Swedes Worldwide annually honors a Swede for accomplishment to promote eminent actions to market Sweden internationally in culture, commerce, science, sports, and the humanitarian field.
Pia Sundhage is awarded the prize in 2017 with the motivation:
"Through her great career, Pia Sundhage has become one of Sweden's most beloved sports women as a football player and football coach. With a safe and down to eart appearance, she has given Swedish women's football a face, rolled it into the Swedes' hearts and strengthened the image of Sweden as a football nation. In Sweden and in the world, Pia is an important role model for many girls and youths with football dreams. She has inspired other women to perform at the highest level in widely different environments.
A catching enthusiasm and a solid feel for the ball have taken Pia Sundhage from the life as a Jitex player out in the world. She mastered the chess and chat of the green field. When she was a coach of the United States women's team, they won the Olympic Gold 2008 and 2012 and silver in the World Cup 2011. She was thereafter appointed by FIFA Women's coach of the Year. Since 2012 she has led Sweden's team, who won the Olympic silver 2016 and Silver in the European Championships 2013. During the summer, Pia makes her last tournament as the Swedish National Team during the European Championships.
With solid integrity and a fine moral compass, Pia Sundhage has contributed to a more equal society. Her long international career as a successful leader for some of the world's best national teams has developed her into a strong and successful Swedish brand. She has not only put Swedish women's football but also Swedish women on the map. Nowadays she is also an appreciated lecturer and motivational speaker. Pia represents Sweden in an exceptional way in international contexts and is a very worthy winner of the International Swede of the Year 2017. "